Designer Stimulant Test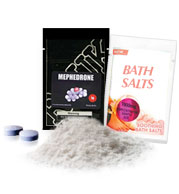 Synthetic stimulants are produced in clandestine labs and sold online or available for purchase at smoke shops. Promoted as "bath salts," "research chemicals," or "plant food," product labeling attempts to circumvent regulation by suggesting they are not for human consumption. Additionally, some forms of designer stimulants may be sold as "legal" MDMA (Legal X), or sold and veiled as MDMA tablets.
U.S. Poison Control and National Drug Intelligence have all issued health warnings, noting nationwide emergency room visits related to these drugs. A federal ban enacted in July 2012 targets Methylone, MDPV and Mephedrone, three designer drug compounds found in so-called bath salts. This important measure will prove critical in deterring abuse from these dangerous designer drugs. Nevertheless, they are still readily available via the Internet and in many "headshops" around the country.
Features & Benefits
Detects many illicitly synthesized forms of stimulants sold online and in head shops nationwide
Quantitatively identifies active ingredients of many "legal high" products labeled as "bath salt" and "plant food," or sold as "Legal X"
Choose from two test panels: expanded designer stimulant panel or the DEA banned panel covering MDPV, Methylone and Mephedrone
---
To learn more about Designer Stimulant Drug Testing call:
800.255.2159