Steroid/Sports Drug Testing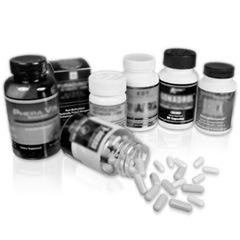 Due to popular demand, RTL developed a comprehensive and affordable steroid panel that is comparable to WADA1. Our steroid test is ideal for sports organizations, colleges and high schools, corrections and law enforcement, and health agencies2. RTL offers the same high-quality test results for steroids as we do for urine drug screening and oral fluid drug testing. Try us today.
RTL utilizes the most sophisticated, sensitive and specific equipment and technology available, gas chromatography/mass spectrometry (GC/MS), to screen and confirm steroids, diuretics and stimulants. This methodology provides highly accurate results. As with all of RTL's testing options, full customer support and training is provided. Turn to RTL for confidence in testing—we'll find out.
Features & Benefits
Toll-free toxicology support services with access to licensed and certified toxicologists
Expert witness services and litigation packages available
All laboratory tests performed on state of the art GC/MS equipment
Fast turn-around time from receipt of specimen (48 hours3 negative, 72 hours positive)
Results available via internet, fax and/or U.S. Mail
Affordable pricing (ask about combining your drug testing panels)
Steroid Testing Expertise
To support our steroid testing service, RTL employs Dr. Victor Uralets, formerly Director of Sports Testing at Quest Diagnostics. Dr. Uralets has 26 years of drug testing laboratory experience with 11 years focused on Olympic laboratory testing. Dr. Uralets holds a doctorate degree in organic chemistry from the Institute of Organoelement Compounds of the Russian Academy of Sciences and a bachelor of science degree in chemistry from Moscow State University. With the addition of Dr. Uralets to its staff, RTL offers the same confidence in testing for steroids as it does for urine and oral fluid drug testing.
Testing for performance enhancing drugs is critical to fair and safe play. Turn to RTL for confidence in testing—we'll find out.
Test Panel
Steroid test panel
Comprehensive Steroid Panel — Test panel list updated periodically to include new prohormones and designer steroids.
1-Androstendiol
Methandriol
1-Androstendione
Methandrostenolone
4-Androstendiol
Methasterone
4-Androstendione
Methenolone
5-Androstendiol
6-Methylandrostendione
5-Androstendione
Methyl-1-testosterone
Bolandiol (19-Norandrostendiol)
Methylnortestosterone
Bolasterone
Methyltestosterone
Boldenone
Mibolerone
Boldione
Nandrolone
Calusterone
19-Norandrostadiendione
Clenbuterol (anabolic agent)
19-Norandrostendione
Clostebol
Norbolethone
Danazol
Norclostebol
Dehydrochlormethyltestosterone
Norethandrolone
Desoxymethyltestosterone
Oxabolone
5α-Dihydrotestosterone/Drostandiol
Oxandrolone
Drostanolone
Oxymesterone
Epitestosterone (masking agent)
Oxymetholone
Ethisterone
Probenecid (masking agent)
Ethylestrenol
Prostanozol
Fluoxymesterone
Quinbolone
Formebolone
Stanozolol
Formestane (anti-estrogen)
Stenbolone
Furazabol
Testolactone (anti-estrogen)
Halodrol
1-Testosterone
4-Hydroxy-testosterone
Testosterone
Mestanolone
Trenbolone
Mesterolone
Diuretic Panel
| Diuretic Panel | Test panel updated periodically |
| --- | --- |
| Acetazolamide | Cyclothiazide |
| Amiloride | Dichlorphenamide |
| Bumethanide | Ethacrynic acid |
| Bendroflumethiazide | Furosemide |
| Canrenone | Hydrochlorothiazide |
| Chlorthalidone | Hydroflumethiazide |
| Chlorothiazide | Spironolactone |
| Clopamide | Triamterene |
Stimulant Panel
| Stimulant Panel | Test panel updated periodically. |
| --- | --- |
| Adrafinil | l-Methamphetamine (Levmethamfetamine) |
| Amfepramone (Diethylpropion) | Mefenorex |
| Amiphenazole | Mephentermine |
| Amphetamine | Methamphetamine |
| Amphetaminil | Methylenedioxyamphetamine (MDA) |
| Benzphetamine | Methylenedioxymethamphetamine (MDMA) |
| Benzylpiperazine (BZP) | Methylephedrine |
| Cathine (Norpseudoephedrine) | Methylphenidate |
| Clobenzorex | Modafinil |
| Cocaine | Nikethamide |
| Dimethylamphetamine | Norfenfluramine |
| Ephedrine | Octopamine |
| Ethamivan(Etamivan) | Parahydroxyamphetamine |
| Ethylamphetamine (Etilamphetamine) | Phendimetrazine |
| Famprofazone | Phenmetrazine |
| Fencamfamine | Phentermine |
| Fenethylline (Fenetylline) | 4-Phenylpiracetam |
| Fenfluramine | Propylhexedrine |
| Fenproporex | Selegiline |
| Furfenorex | Sibutramine |
| Heptaminol | Strychnine |
---
---
To learn more about Steroid/Sports Drug Testing call:
800.255.2159
World Anti-Doping Agency
Compliance with RTL non-pretesting policy is required
Excludes specimens received Saturday.